/ Home / About US / Products / Facilities / Supports /
Home>Products>Industrial Hoses>Sand Blast Rubber Hose

Sand Blast Rubber Hose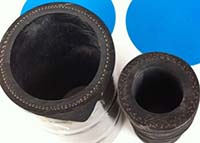 Application:
It is used for the sand-blasting machine to get rid of rust by means of spraying sand or iron ball.
The tube has good performance of anti-aging and wear-resistance.The burst pressure is at least fourfold than the working pressure.
The I.D,O.D,W.P AND B.P of rubber air compressor hose is able to produce as per the customers' requirements. The maximum I.D is up to 500mm,the maximum length is up to 100meters.  
Our factory also produces armored rubber hose according to client requirement.
InsideDiameter(mm)
OutsideDiameter(mm)
W.P
Layer
Length
size
tolerance
size
tolerance
(BAR) 
(p)
(m) 
13
±0.8
28
±0.8
6.3
4
20
16
±0.8
30
±0.8
6.3
4
20
19
±0.8
35
±0.8
6.3
4
20
22
±0.8
37
±0.8
6.3
4
20
25
±0.8
40
±0.8
6.3
4
20
32
±1.2
50
±1.2
6.3
4
20
38
±1.2
56
±1.2
6.3
4
20
45
±1.2
63
±1.2
6.3
4
20
51
±1.5
70
±1.5
6.3
4
20
64
±1.5
82
±1.5
6.3
4
20
76
±1.5
95
±1.5
6.3
4
20