/ Home / About US / Products / Facilities / Supports /
Home>Products>Conveyor Belts>Steel Cord Conveyor Belts
STEEL CORD CONVEYOR BELTS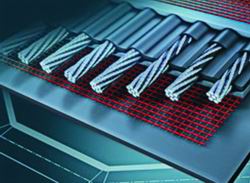 Advantage: Strong tensile strength, long-life, little elongation, easy to trough, anti-bent, suitable for long distance, heavy load and high-speed conveying materials.
Use: Conveying materials in coal, mine. Harbor, metallurgy, power station, chemical etc.
Type :(1) Conventional, Fire-resistant, Cold-resistant, Abrasion-resistant, Heat-resistant, Acid/alkali-resistant etc.(Referring rubber cover)
(2) General structure, Cross rigid structure, Anti-tearing iron ring structure.

 
ST630
ST800
ST1000
ST1250
ST1600
ST2000
ST2500
ST3150
ST3500
ST4000
ST4500
ST5000
ST5400
ST6000
Elongation Tensile Strength (N/mm)
630
800
1000
1250
1600
2000
2500
3150
3500
4000
4500
5000
5400
6300
Max. Diameter of Cord (mm)
3
3.5
4
4.5
5
6
7.5
8.1
8.6
8.9/9.1
9.7
10.9
11.3
12.3

Pitch(mm)

10
10
12
12
12
12
15
15
15
15/17
16
17
17
18
Top Rubber Cover Thickness(mm)
5
5
6
6
6
8
8
8
8
8/8
8
8.5
9
10
Bottom Rubber Cover Thickness (mm)
5
5
6
6
6
8
8
8
8
8/8
8
8.5
9
10
Weight (kg/ ㎡)
18
19.5
21.5
22.2
26.1
33.1
35.3
41.1
45
45/45
51
59
62
65
Width(mm)
Cord Number 
800
75
75
63
63
63
63
50
50
50
 
 
 
 
 
1000
95
95
79
79
79
79
64
64
64
64/65
59
55
55
54
1200
113
113
94
94
94
94
76
76
77
77/68
71
66
66
63
1400
133
133
111
111
111
111
89
89
90
90/79
84
78
78
74
1600
151
151
126
126
126
126
101
101
104
104/91
96
90
90
85
1800
 
171
143
143
143
143
114
114
117
117/103
109
102
102
96
2000
 
 
159
159
159
159
128
128
130
130/114
121
113
113
107
2200
 
 
 
 
 
176
141
141
144
144/125
134
125
125
118
2400
 
 
 
 
 
193
155
155
157
157/137
146
137
137
129
2600
 
 
 
 
 
209
168
168
170
170/148
159
149
149
140
2800
 
 
 
 
 
 
 
 
184
184/160
171
161
161
151